Responding to NOID and NOIT
Dec. 29, 2022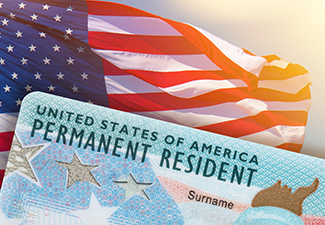 If you're seeking to obtain lawful permanent resident status (LPR) in the United States through asylum or marriage – or generally through an I-130 application, Petition for an Alien Relative – somewhere during the official review process, you may receive communication from the United States Citizenship and Immigration Services (USCIS) with the abbreviations NOIT or NOID.
A NOIT means a "Notice of Intent to Terminate," while a NOID means a "Notice of Intent to Deny." If you receive either one of these notices, it means that the USCIS agent reviewing your application or your current resident status has doubts about the evidence you've submitted. You will need to act quickly to supply additional information or expanded versions of already submitted evidence to back up your case.
If you are in or around Woburn, Massachusetts, and have received a NOIT or NOID, contact our immigration attorney at Corbaci Law, P.C. immediately. You generally have only 30 days to respond, and we will help you compile the evidence and documentation necessary to provide a new perspective on your case, so it may hopefully be approved. We also proudly serve individuals and families in and around Boston, Marlborough, and Framingham, Massachusetts.
What Is a Notice of Intent to Deny?
In the immigration process, the USCIS officer reviewing your application may sometimes issue an RFE, Request for Evidence. This means that they simply need some clarification or additional evidence before making a decision.
In contrast, a Notice of Intent to Deny (NOID) is far more serious and indicates that the examining officer is not convinced you're eligible for an adjustment of status based on the evidence you submitted and is all but ready to deny the petition.
A NOID may be issued after a marriage-based interview when the USCIS officer has doubts about the legitimacy of the marriage. Perhaps in separate interviews, the U.S. citizen or Green Card spouse appears not to really know the other spouse, or vice versa, even though the two have submitted evidence of living together.
A NOID might also be issued for any immigration petition if the USCIS officer fails to find sufficient evidence for approval of the petition. In other words, a NOID is not limited just to marriage-based applications.
The NOID will spell out why USCIS intends to deny your application. You then have 30 days – add three days if the NOID is sent by U.S. mail -- to respond with additional and updated information. You should even resubmit previously submitted evidence but try to update or clarify it at the same time. Additional evidence may also be necessary to change the issuing officer's mind.
You must take a comprehensive approach. The guidance and help of an experienced immigration attorney is vital. At this point, you want to make sure that every detail and even the slightest bit of qualifying evidence have all been attended to in a timely manner. If you fail to respond in 30 days, USCIS will issue a Notice of Action denying your application.
What Is a Notice of Intent to Terminate?
A Notice of Intent to Terminate (NOIT) is a vehicle used to notify an asylee that their right to remain in the United States is on the brink of being terminated. The USCIS website states point blank: "A grant of asylum does not convey a right to remain permanently in the United States and may be terminated."
USCIS may issue a NOIT for a variety of reasons. For instance, the applicant:
May no longer meet the definition of a refugee.

May constitute a danger to those in the United States by the conviction of a serious crime.

Has committed a serious nonpolitical crime outside the U.S. before arriving.

Poses a danger to the security of the U.S., perhaps through terrorist activity.

Has returned to the country of nationality or has acquired a new nationality.
If you receive a NOIT, it will include the grounds for termination being considered and provide a brief summary of the evidence supporting these grounds. The NOIT will offer the asylee the chance to rebut the termination grounds at a scheduled hearing at an asylum office or before an Immigration Judge. Again, there is a 30-day window to submit additional evidence that can go toward rebutting the reasons offered in the NOIT for potential termination.
Once again, it is essential to enlist the aid and advice of an experienced immigration attorney. If you miss the deadline or the interview, USCIS can issue a Notice to Appear (NTA) for removal proceedings, meaning you can be deported.
Turn to Corbaci Law, P.C.
We at Corbaci Law, P.C. have helped countless others with the challenges of USCIS, whether a NOID or NOIT, or other notification resulted in adverse actions against you. If you receive a NOID or NOIT, reach out immediately.
As you can see from the above descriptions, time truly is of the essence. We stand ready to help you supplement your documentation and evidence and counter any grounds USCIS may have for denial or termination. Don't go it alone. Too much is at stake. We proudly serve clients in Woburn, Boston, Marlborough, and Framingham, Massachusetts.