I Used Fake Documents to Enter
the U.S. & Married a Citizen
Feb. 21, 2022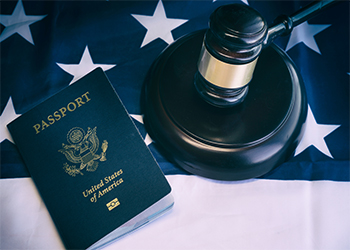 Love is a beautiful thing, and it makes people happy. As an undocumented immigrant in the United States, nothing prevents you from falling in love and marrying a U.S. citizen. However, whether your marriage makes you eligible for lawful permanent resident status (green card) can pose different issues. Our knowledgeable Massachusetts immigration law attorneys can enlighten you about the consequences of entering the U.S. illegally and determine your eligibility for a marriage-based green card.
At Corbaci Law, P.C., our attorneys have the experience, diligence, and resources to advise and guide clients in complex immigration matters involving undocumented immigrants and marriage to U.S. citizens. Our firm proudly serves clients across Woburn, Boston, Marlborough, and Framingham, Massachusetts.
Entering the U.S. as an Immigrant
There are several ways to enter the United States legally as an immigrant and obtain a visa or a residency card. These include:
Family-based immigration

The Visa Waiver Program (VWP)

Marriage visa or fiancé visa

Work visa

Student visa

Visa lottery

Immigrant investor visa.

Asylum seekers
Our experienced attorneys can enlighten you about the various available options, guide you through the proper steps to secure documentation, and make sure your immigration is legal.
Consequences of Illegal Immigration
Here are some of the consequences of illegal immigration or being caught with false documents:
Massive fines

Prison sentence (months or years)

Removal from the United States

Inadmissibility into the United States
Fortunately, you can get a second chance even if you entered the United States with false documents or if you've been deported earlier. The possible options include:
Explore an exception that allows you to adjust your status as the immigrant spouse of a U.S. citizen.

Leave the United States before your illegal stay reaches 180 days and apply for an immigrant visa at the U.S. embassy or consulate in your home country.

Seek a waiver of your unlawful presence in the United States.
Our skilled attorneys can help you understand your available options to achieve legal immigration and determine the best course of action.
Determining Marriage and Immigration
As mentioned earlier, marriages between U.S. citizens and illegal immigrants occur regularly. However, under U.S. immigration laws, a marriage is considered valid for immigration purposes, provided that the marriage is valid under the law of the jurisdiction in which it is performed.
Hence, if you entered into the marriage to evade immigration laws, it would be considered a sham or fraudulent marriage. Also, if the couples have no intention to establish a life together after the marriage ceremony, their marriage is a fraud.
Consequences of a Fraudulent Marriage
According to 8 U.S. Code § 1325, "Any individual who knowingly enters into a marriage for the purpose of evading any provision of the immigration laws shall be imprisoned for not more than 5 years, or fined not more than $250,000, or both."
How to Get a Visa If You Are In a Legit Marriage
To qualify for a marriage-based visa or green card, you must meet the following requirements:
You are legally married to a U.S. citizen or lawful permanent resident.

Your marriage is legitimate or "Bona Fide" and not for immigration benefits.

You and your spouse are only married to each other.
Furthermore, the U.S citizen spouse will file the immigration petition, sign the required fees, and provide all supporting documentation, including civil marriage certificate, passport, and evidence of legal name. Our experienced attorneys can guide you through the entire process and ensure that your marriage-based visa or green card application is successful.
How Experienced Attorneys Can Help You
Being the spouse of a U.S. citizen makes you automatically eligible to receive a green card as immediate relatives once you complete the application process. However, despite the validity of your marriage, becoming a legal resident as an undocumented immigrant often present different challenges. Our experienced immigration law attorneys can explore your available options to become a lawful permanent resident and avoid the ramifications of illegal immigration.
At Corbaci Law, P.C., our attorneys have devoted their careers to providing knowledgeable guidance and advocacy to clients in immigration-related matters. As your legal counsel, we will help you understand the specific needs to help your undocumented foreign-born spouse become a green cardholder.
Using extensive experience, our team can help guide you through the application process, help avoid the consequences of false documents, and ensure that you get fair treatment from the system. We will continue fighting for you and your spouse's best interests and help achieve your marriage and immigration goals.
Contact Corbaci Law, P.C. today to schedule a simple case assessment with skilled immigration law attorneys. Our trusted team can offer you the experienced legal counsel and reliable advocacy you need to make informed decisions. We're proud to serve clients across Woburn, Boston, Marlborough, and Framingham, Massachusetts.