Challenges Same-Sex Couples May Face When Applying for a Green Card
Sept. 14, 2023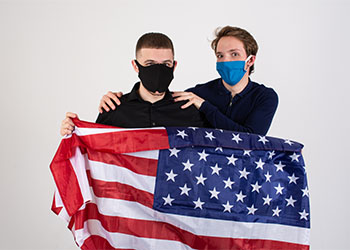 Becoming a United States resident or citizen is the dream of people across the world. As most immigrants know, this is a long and complicated process, but one that's well worth the effort. There may be certain groups of people, however, who might have a harder time gaining residency.

An immigration attorney can help these individuals move forward. Specifically, if you're facing concerns when applying for a green card as a same-sex couple, there is help available that may make the process easier. To meet with an LGBTQ-friendly immigration lawyer in the Woburn, Massachusetts area—including Boston, Marlborough, and Framingham—reach out to us at Corbaci Law, P.C.
Applying for a Green Card
There are a few ways to be eligible to become a permanent resident. One of the most common is because you have a family member who is already a citizen such as a parent, child, or spouse. You may then apply for residency based on this relationship. Your process will look different depending on where you are located.
If you're currently in the US, you'll apply for an adjustment of status with the USCIS.

If you're outside of the US, you'll apply for consular processing through the Department of State.
Your eligibility for either process will most certainly depend on your own immigration history, such as your manner of entry to the U.S., and any history of prior immigration applications or criminal history. Some people may file for themselves, while others will need a sponsor (ie. your family member).
Getting a Green Card for a Same-Sex Fiancé 
Under US law, same-sex marriages are treated the same as opposite-sex marriages and therefore follow the same guidelines when applying for a green card. If one partner is already a US citizen, there is a way to apply for a green card for your fiancé who is currently living abroad.
You will first have to apply for a K-1 visa (sometimes called a fiancé visa) and only after this is granted can you enter the U.S. and apply for an adjustment of status for conditional permanent residence status.
Same-Sex Marriage as Basis for a Green Card
One important question we get asked is, "Can same-sex couples apply for marriage green cards?" and the answer is yes. The US makes no distinction between opposite-sex married couples and same-sex married couples who are applying for a green card.
Common Challenges and Concerns
Like any married couple trying to get a green card, there are some challenges you may face:
Proving a Bona Fide Marriage: All couples will have to provide enough evidence showing their marriage is authentic and not simply to get a green card. This can be done through your interview, photos, testimony from friends or family, or documentation like shared bank accounts.

Proving a Legally Valid Marriage: This means you will have to get a marriage certificate from a country that allows same-sex marriage.  You will also need to show that any prior marriages have been legally terminated. If the foreign partner is abroad and living in a country where same-sex marriage is not recognized, and the partners are not yet married, the K-1 fiance process would be a good option. This would allow the foreign partner to enter the U.S. where the couple could then legally marry.

Concerns About Immigration Officer Biases: Even though same-sex marriage is legal in the US, people still have concerns about potential biases immigration officers may have. However, these officers are trained to treat all applicants the same, and discrimination of this kind rarely happens.

Previous Heterosexual Marriage: Lastly, if you were previously married to someone of the opposite sex, you may worry that your new same-sex marriage will be viewed as a sham. Although there is nothing illegal about this, you may be asked questions about it during your interview and have to provide more documentation.
How an Attorney Can Help
An immigration attorney can help you through every step of the process and can help you address any concerns or setbacks that happen along the way. Furthermore, they can help you gather and organize evidence and prepare for your immigration interview which can play a large role in whether your application is approved. 
Reach Out to Us for Trusted Support
For help applying for a green card as a same-sex couple, contact us at Corbaci Law, P.C. in Woburn, Massachusetts. We're here to guide you toward a positive resolution.